Rendering advanced material handling and construction equipments like Aerial Work Platforms, Cherry Picker, Boom Lift, Man Lift, JLG, JLG Boom Lift, Scissor Lift, Lifting Scissors, Electric Booms, as well rental and contract management services.

JLG Articulated Boom Lift Rental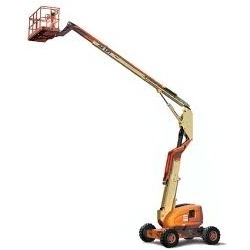 JLG Articulated Boom Lift Rental
Service Code : JABLR
Brand Name : KOTHARI HEAVY LIFTERS
JLG Articulated Boom Lift Rental offered accompanies rotational edge of 360 consistent and impeccably match up to the requests of enunciated blast lifts. Made accessible on rental premise, these are suitable for taking care of distinctive operations like support, development, tree trimming, upkeep errands and others. Some of its elements incorporate basic operation bolster, enormous burden limit; adaptable and advantageous to utilize; additionally utilized as a part of regions like shopping dividers, stadiums, dock, station and different spots, accessible in distinctive setup alternatives to pick from.
Features:
The offered lifts are aerial work platforms with multiple sections that allows the user to have easy access to work areas that may be blocked by barriers or obstacles
These lifts are are very versatile and work well even in difficult areas
Our lifts on rental basis offer greater horizontal outreach allowing access to areas with limited access points